Jane is the daughter of Jeanette Freeman and Walter T. Wittman. She married Aaron Vandebogart in 1967 and separated in 1977 with an official divorce in 1989. She lived in Woodstock NY her whole adult life and was active in community causes and government as a member of the Town Council and in the Planning Dept.

Jane was a lifelong activist from a family of lifelong activists. Her obituaries and other clippings detail much of this activism, including her trip to Cuba in defiance of the US State Department, an act which opened up travel to Cuba on a limited basis. (The Court case decided that you could go to Cuba but your passport could not. Cuba articles.)  She attended Antioch, a liberal college known for the activism of its students. Jane became interested in teaching and was involved in several educational projects in poor neighborhoods.
As an adult, she became a prolific quilter and mixed her politics and her quilt making for anti-war, AIDS and community causes.
Jane was heavily involved in the civic life of Woodstock NY having been elected to the Town Council and also serving the Planning Board and other activities as well as taking an active interest in environmental issues and infrastructure in Woodstock. She privately created a map of Woodstock that was popular among tourists and locals.
In her marriage to Aaron Vandebogart Jane pursued many other traditional crafts and began collecting vintage canning jars, antique tools, and ephemera.
Scroll down in each pdf to see several documents.
Remembering Jane
Early Political Activities
Traveling to Cuba in 1965
Quilting and Politics
Jane made a memorial quilt for her brother for the National AIDS Quilt Project. Her project book for other quilts is also included.
Jane and Suffrage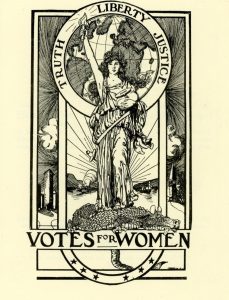 Jane, with Marguerite Kearns Culp, were inspired by their foremothers, to mount an exhibit featuring the suffrage work of Jane's great aunt, Elisabeth Freeman, and Edna Kearns, Marguerite's grandmother.
Aaron Vandebogart