Jennie is the mother of Blanche Bishop Freeman, who was mother of Jeanette, Ruth, John, Elizabeth, and Helen Freeman.
She was born Jeanette Fraser June 22, 1855 in Oxford in Chenango County New York. Her granddaughter Nettie said that "she scratched her name 'Jeanette' out of the family Bible, to the horror of everyone, and she was 'Jennie' ever after."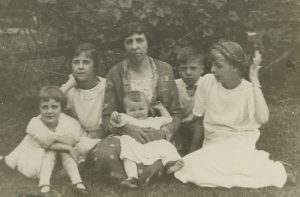 Her parents were Ann M. and Charles Fraser (alternately spelled Frazier in some old news accounts). She married John Frederick Bishop, Jr. in Oxford or Harpursville NY on July 4, 1875. John Bishop was an excellent craftsman and worked in his father's business, J.F. Bishop, established in 1841 in Harpursville making carriages and sleighs. When the demand for carriages diminished, he plied his skills creating custom interiors for train cars. John and Jennie lived on James Street in Binghamton. When he built the house it was last house on the Southside of Binghamton. John died in February of 1914.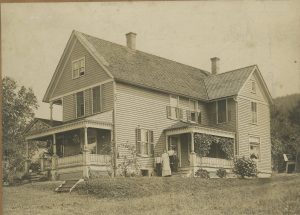 Jennie lived another 28 years in that house. Nettie remembers her "as a spirited gal." Every Saturday afternoon (or Wednesdays alternately reported) she got all dressed up, took the bus 'overtown' and attended the matinee performance of plays at the theater on Chenango St. in Binghamton where operas, Broadway touring companies, and vaudeville were performed. "She bought a season's ticket every year." Both Nettie and Ruth found their love of theater on the occasional treat of going to the Old Stone Opera House with their grandmother.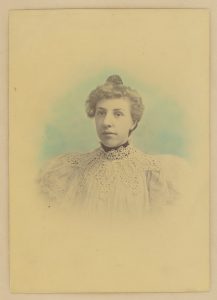 Ruth recalls that Grandma Bishop was always very positive and encouraging to those around her. "She had a great sense of humor and always had funny stories to tell." Nettie wrote in a letter dated Dec. 25, 1972, "I had just met Walt (her future husband) a few months before, and I took him to Binghamton to meet her. When we came into her tiny upstairs apartment on James Street, she took him into her arms and heart immediately, and I was so happy! Unlike my mother, who was mean and hateful to Walt, Grandma loved him on first sight. She even opened up the double folding couch in the living room and said, 'You two lovebirds can sleep together" without knowing whether we were married or not!"
Nettie continued, "Grandma Bishop was the one in my family at that time that I really loved and admired. Even though she was 78 or 79 and sickly and confined to her rocking chair when she gave me her silver spoons, she was still full of humor and spunk."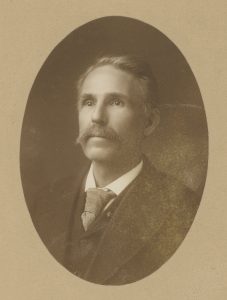 Jennie Bishop received the silver spoons as a wedding present. As they probably date from the early 1800's it is likely that they belonged to John's father, John F. Bishop, Sr. They are made of "coin silver" and carry the monogram "B."
Jennie lived to be 87. It is not clear exactly how she supported herself after her husband died. We do know that she divided the house to rent out and she lived frugally. Her only child, Blanche, died April 13, 1935 after an extended illness with breast cancer. As a Christian Scientist, Blanche sought the help of a spiritual practitioner locally and at the Mother Church in Boston. She did not believe in medical treatment and endured excruciating pain without benefit of "even an aspirin" according to Ruth.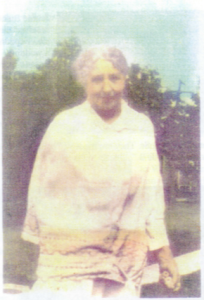 Jennie herself sustained a serious burn from her coal stove. Her son-in-law John Freeman called for a doctor who insisted that she be hospitalized. Jennie could not afford a hospital, so the doctor suggested that she be admitted to the Binghamton Psychiatric Asylum, a state supported facility. When Ruth visited her there she was still in good spirits and telling stories. She died December 29th, 1942, less than a month after Ruth gave birth to her first child.
According to family legend, Ruth could have inherited the house on James Street, but her father, John, forbade it, saying that "it was built with blood money." This was interpreted to mean that the money was earned from the sale of liquor. Apparently Jennie's father, Mr. Fraser, owned a saloon and billiard parlor for a short time.  The house on James St still stands today.
This brief history of Jennie Fraser Bishop was written by Peg Johnston, her great granddaughter, with the help of memories from Ruth Freeman Johnston and Jeanette Freeman Wittman. All of the existing photos of Jennie are included here with additional photos from local archives.